CARP and HomeEquity announce 3-year "CARP Recommended" partnership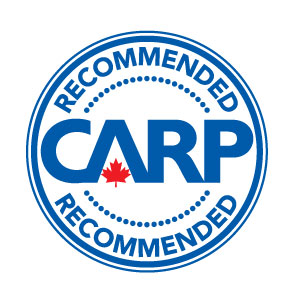 CARP, Canada's largest non-profit, non-partisan advocacy association for Canadians As We Age, has announced a new 3-year "CARP Recommended" partnership with HomeEquity Bank. HomeEquity is Canada's only Schedule 1 bank dedicated solely to providing mature Canadian homeowners with the opportunity to enjoy the full value of their home in retirement.
CARP will recommend HomeEquity Bank's product line as a viable and comprehensive solution for Canadians planning for retirement. CARP members in turn, will enjoy support, access and discount options on HomeEquity Bank's flagship product, the CHIP Reverse Mortgage™ solution.
A CHIP loan is secured against the value of a home, but unlike a loan or conventional mortgage, it does not require clients to make payments. Instead, the loan is only repaid when owners move or sell the home.
"I've always espoused the benefits of aging in place. HomeEquity offers a brilliant way of liberating a portion of the equity you've built up over the years without having to move and relocate. Traditionally, you had to sell your house," said CARP President Moses Znaimer. "After surveying the market carefully, we can confidently recommend HomeEquity. They're a trusted organization with an impressive track record offering the safety and security of a Schedule 1 bank while understanding the unique needs of a mature homeowner."
"For over 30 years, we've been trusted to help Canadians release up to 55% of the equity in their homes to supplement their income," said Yvonne Ziomecki, SVP, Marketing & Sales at HomeEquity Bank. "With soaring house prices, it has become an important tool in many personal financial plans."
HomeEquity President and CEO Steven Ranson will officially kickoff the partnership at the 2016 Toronto ZoomerShow on Saturday, October 29 at the Enercare Centre. ZoomerShow attendees can visit the HomeEquity booth for free product brochures and to meet with a HomeEquity Loan Specialist. Yvonne Ziomecki will also be speaking at the ZoomerShow Talk Theatre on Saturday, October 29 at 1pm and on Sunday, October 30 at 3pm on "How Seniors Can Finally Cash In On Their Higher Home Values".
ABOUT CARP
CARP is Canada's largest national non-profit, non-partisan organization whose mission is to enhance the quality of life for Canadians As We Age. CARP has over 300,000 members, a network of 60 chapters across Canada, and is on a "March to a Million" membership campaign. Most CARP members also receive 9 issues of ZOOMER magazine. For more info, please visit www.carp.ca
ABOUT HOMEEQUITY BANK
HomeEquity Bank is a Schedule 1 Canadian Bank offering the CHIP Reverse Mortgage solution www.chip.ca. The company was founded 30 years ago as an annuity based solution addressing the financial needs of Canadians who want to access the equity of their top asset – their home.