Smashing Stereotypes: When it Comes to Financial Well-being, Older, Single Women are Leading by Example
New HomeEquity Bank survey reveals two groups of women 55+ enjoying higher financial wellness scores: women who are solely responsible for their finances and older women who actively rely on financial advice
As women age, they are better able to enjoy life if they feel their finances are well-managed.
Advisors: women value your professional advice but more than half remain skeptical that it is readily available to them.
TORONTO, September 20, 2023 – Findings from a new survey released today from HomeEquity Bank, provider of the CHIP Reverse Mortgage, reveals the truth about long-standing myths about women and their finances, especially those in the 55+ community.
"Conventional wisdom tells us older women are reluctant to talk about finances because it's 'not polite.' Another persistent cliché is that if you're a single older woman, you're financially vulnerable," said Vivianne Gauci, HomeEquity Bank Chief Marketing Officer. "Looking at our own client data, we saw women's behaviour challenging this narrative and this research proves it."
As the only Canadian bank exclusively serving homeowners 55+, HomeEquity Bank seeks opportunities to empower Canadians to live retirement on their terms. Through this research it can better support women 55+ and help them sleep better at night by separating financial myth from fact.
The survey identified financial wellness scores of this often-overlooked demographic by measuring real-time financial health through a self-reported Financial WellBeing Scale plus general attitudes towards personal finance and seeking financial advice among women over 55, broken down by 10-year cohorts. HomeEquity Bank has routinely measured the financial wellness of its clients and Canadians 55+ to ensure it's delivering on its promise to help Canadian homeowners 55+ have the safety and security they deserve when they retire.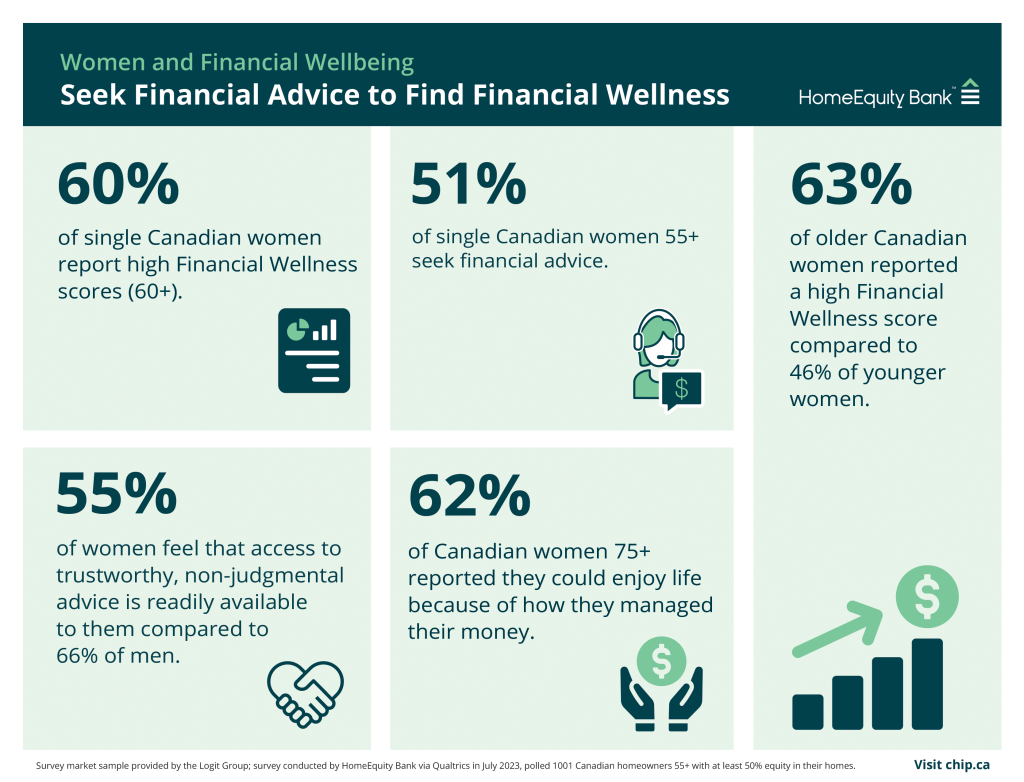 "More than half of our clients are female, but we're careful to not treat them as a single group. We understand better than most banks that financial wellness at age 55 is not the same at 80," said Gauci. "What's consistent is the connection between being engaged in your finances and being more financially secure."
Two demographics stood out from the findings: single women and older women and these women are smashing the stereotypes by taking action. Its impact goes beyond just bank balances with women reporting they can enjoy life because of how they're managing their finances.
What we can learn from all the single ladies: nobody cares more about your financial future than you
Women who are solely responsible for their finances tend to have higher financial wellness scores, with 60 per cent of single women having a high CFPB score (60+) compared those living with family (41%). This is reinforced by the survey findings with single women 55+ seeking financial advice more actively (51%) than women living with family (41%).
HomeEquity Bank's Chief Financial Commentator Pattie Lovett-Reid puts the numbers in context: "Regardless of how strong your relationship is with your partner or family nobody cares more about your financial future than you. Given that demographic data clearly shows that women have a longer life expectancy than men, it's especially important for women to take charge of their financial future."
Accordingly, HomeEquity Bank has introduced a new and improved Financial Wellbeing Scale to help Canadians 55+ assess their level of financial wellness. After completing the free assessment, users are directed to a library of tailored resource designed to empower them to take control of their financial wellness.
What we can learn from older women: seek financial advice to find financial wellness
Sixty-two per cent of women 75+ reported that they could "enjoy life because of the way I am managing my money." This number falls as low as 44 per cent in women 55 to 64. In addition, women tend to see improved financial wellness scores as they age, with 63.5 per cent of older women reporting a Financial Wellness score of 60+ compared to only 46 per cent younger women. One potential reason? The survey found women 65+ are more likely to seek professional financial advice (50%) compared to those younger than 65 (45%).
Advice on seeking advice: women seeking trustworthy, nonjudgmental advice
Women who actively spoke to financial advisors not only achieved greater financial wellness but also greater parity with men with similar behaviours. But nearly half of women (48%) are still not seeking professional advice as often as men (55%) because, in part, women feel that access to trustworthy, non-judgmental advice is still not readily available to them (at 55% vs 66% for men).
"It's important advisors recognize that women can be reluctant to talk finances because they have struggled to find good, trustworthy advice in the past," said Lovett-Reid, who is a Certified Financial Planner in addition to being the bank's Chief Financial Commentator. "Advisors must provide clear, understandable advice in a way that helps empower women to take charge of their financial futures."
Client Story: Meet the Masocco Family
No one understands the power of good, clear, non-judgmental advice than Nancy Masocco, who has power of attorney (POA) for her mother, Anne, 90, known to her family, friends and caregivers as Chickie. "My parents worked hard—Chickie as executive secretary at Ford and my father as a machinist working on the original Canadarm at Spar Aerospace—without the benefit of generational wealth to buy a home 58 years ago," said Masocco. "Now my job is to carry out Chickie's wishes for the money she actively managed and invested in partnership with my father over a lifetime. She was very clear that she wanted to retire in the home she loves and now, with my father gone, I'm making sure she's able to do that."
Masocco took over the family finances when it became too much for Chickie as her dementia worsened and had a steep learning curve to find financial advice that would honour what Chickie had outlined in her living will. "I knew I didn't know a lot when I started but I had a friend who had been through this before and helped me in my early meetings with advisors. I had to make it clear over and over through a revolving door of advisors that I wasn't dumb but just uneducated on financial tools that could help Chickie. I finally found the right advice that was caring, educational and allowed me to carry out her wishes. I like to say that I'm just following her directions and a good advisor was able to help me do that in a way that could support the cost of round-the-clock in-home care."
That's why HomeEquity Bank is inviting wealth professionals to a webinar with Lovett-Reid on September 26 at 3:00 PM (EST). In the session, Lovett-Reid and our panel of experts will dig into new survey data, talk about the direct connection between health and wealth, and share insights that wealth professionals can leverage in their business to educate, empower, and protect their 55+ female clients. Advisors can sign up for the webinar here.
About HomeEquity Bank
HomeEquity Bank is a Schedule 1 Canadian Bank offering a range of reverse mortgage solutions including the flagship CHIP Reverse Mortgage™ product. The company was founded more than 35 years ago to address the financial needs of Canadians who wanted to access the equity of their top asset – their home. The Bank is committed to empowering Canadians aged 55 plus to live the retirement they deserve, in the home they love. HomeEquity Bank is a portfolio company of Ontario Teachers' Pension Plan Board, a global investor that delivers retirement income for 336,000 current and retired teachers in Ontario. For more information, visit www.chip.ca.
For further information:
| | |
| --- | --- |
| HomeEquity Bank | Weber Shandwick Canada for HomeEquity Bank |
| Vivianne Gauci, SVP Customer Experience and Chief Marketing Officer | Adam Bornstein |
| Phone: (416) 413-4661 | Phone: (905) 505-2540 |
| Email: vgauci@heb.ca | Email: abornstein@webershandwick.com |