Reality Gap Threatens The Financial Health Of Canadian Seniors: HomeEquity Bank Research
TORONTO, November 24, 2016, – At a time when Canadian seniors are living longer and healthier lives, their financial fitness requires close attention. Recent research sponsored by HomeEquity Bank, providers of the CHIP Reverse Mortgage™, indicates there is a startling gap between the lifestyle expectations of those Canadians 40+ years and the reality.
The study, which looked at the financial health and viability of Canadian seniors, was national in scope and focused on Canadian residents, 40 years or older who own their homes. The random survey of 1,500 participants was undertaken between October 5 – 14, 2016 with a margin of error of ±2.5 percentage points 19 times out of 20.
The research indicates that the majority (82 per cent) attach significant importance to the ability to stay in their homes during their entirety of their retirement years. At the same time, almost half of those who identified themselves as retirees have outstanding debt and 40 per cent report savings of less than $100,000. Furthermore, a quarter of those aged 75+ still have a mortgage.
That contradiction is reinforced by data that shows 69 per cent believe the value of their home equity is important to their retirement plans; 44 per cent describe it as extremely or very important.
Other key findings from the research include:
69 per cent expressed confidence that they have sufficient funds to retire;
78 per cent have savings and investments;
25 per cent include the sale of their home as a factor in retirement income;
Paying off a mortgage is a surprisingly low priority for the seniors that still have one (25 per cent of those surveyed who are 75 +);
43 per cent of retirees have debt with 73 per cent of the debt being less than $50,000; and
35% of Canadians 75+ have debt.
"This data shows a deeply troubling gap between perception and reality," said Yvonne Ziomecki, SVP, Marketing & Sales at HomeEquity Bank. "Canadian seniors are among those with record household debt levels and also surprisingly minimal savings. Solutions must be based on a solid understanding of all the options available, including reverse mortgages that allow seniors to unlock the soaring value of their home equity."
Among those options is a CHIP reverse mortgage, a proven financial product that HomeEquity Bank has provided to Canadians aged 55+ for 30 years. A reverse mortgage is a financial tool that allows homeowners to access the value of the equity in their homes, while still owning their homes until they make the decision to sell.
HomeEquity Bank, the only provider of reverse mortgages in Canada, is a fully-regulated, Schedule 1 Canadian bank. For more information about the recent research and about HomeEquity Bank visit www.chip.ca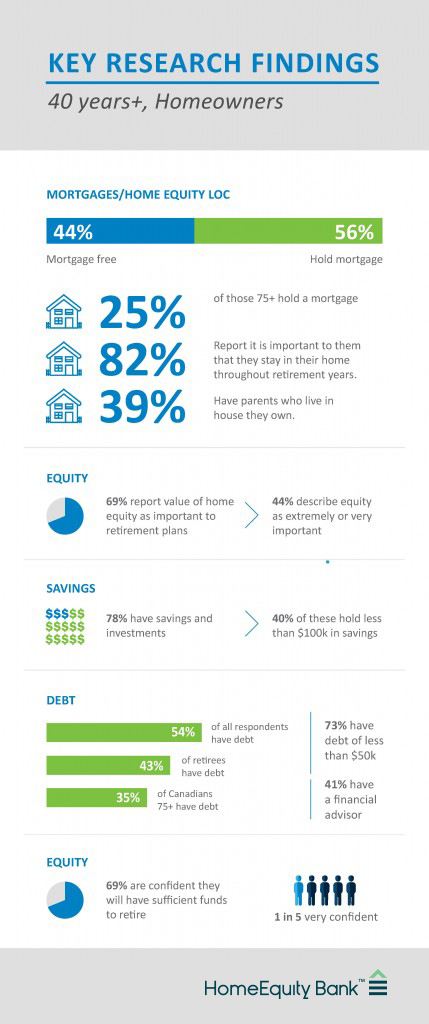 Media contact:
Yvonne Ziomecki